Kim Kardashian has finally answered the question many fans have been scratching their heads about: Why did she and Kanye West not to name their baby girl North West something starting with the letter K?
The 32-year-old reality star explained her unusual rationale for avoiding a K name in the footage above from the latest episode of Keeping Up With The Kardashians.
"If we name our kid with a 'K' name, which is kind of what we want, mainly just because Kanye and I are Ks, then with our kid if it's a 'K', then they'll call us the KKK," Kim muses.
Yeah, a Ku-Klux-Klan reference would be a deal-breaker in naming your baby!
Filmed on the Kardashians' Greek Islands holiday in May, the video shows Kim on a yacht chatting with sister Kourtney and stepbrother Brody Jenner about the baby's moniker. She brings up the name North West — watch to hear her super-cute comments about the name!
Sounds like Kimye had decided on NW long before North's June 15 birth. It's a break with Kardashian family tradition, as all of the girls are named with the letter K: mum Kris, daughters Kim, Kourtney Khloe, Kendall and Kylie. Brother Rob is the only Kardashian without a K ... why not Kevin?
Here we're wondering why Kimye didn't just give North a silent K. Knorth West, anyone?
Speaking of the newborn, North received a nice little gift from mum and dad recently. Kimye spent $1200 on a car seat for her, featuring "plush microfibre upholstery" and a "paparazzi shield extension" to avoid those camera-toting guys in the bushes. Pimped-out!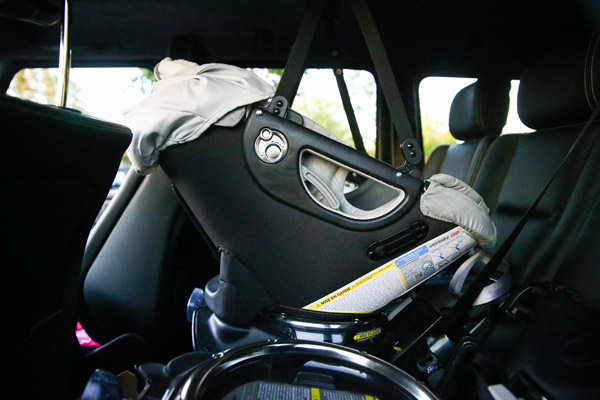 Kimye's $1200 baby seat, seen here in Kris Jenner's car. Image: Splash.

View pics: The Kimye baby 'photo album' that's too good to be true