Wow, Christina Milian. Just wow.
The 31-year-old mum-of-one sure ain't shy, heading to her Dancing with the Stars U.S rehearsals in lace-up thigh highs and a pair of teeny-tiny denim cut-offs. And in putting together the get-up in such haste, the singer also managed to leave her bra at home, which we all know results in major 'fripple'. Which she clearly has.
The singer-songwriter, who recently had a hit with the Stafford Brothers' dance smash 'Hello', made sure everyone got a good ol' eyeful of her taut bod slowly stepping out of her car before the intense workout had begun.
Obviously dance partner Mark Ballas wasn't overly impressed by Christina's choice of footwear, with the diva emerging from rehearsal in a pair of trainers and a grey playsuit. Which we're guessing was a little easier to sashay around in, even though she continued to remain bra-less.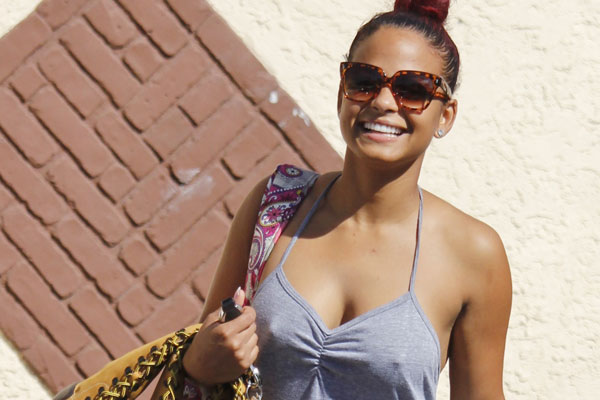 Christina Milian erm shows off her bod in grey playsuit
And although she may be lacking support in the erm, wardrobe department, the singer seems to be getting lots of love from fiancé Jas Prince. Keeping her relationship on the down low when speaking to People magazine, Christina said: "I'm definitely with someone. I'm in a very happy relationship, a very stable relationship, which is great and he's very supportive. We're definitely looking into the future."
Stealth right? Perhaps next time leave the flashy diamond rock at home next time the paps are around Christina, just sayin'.