Michael Douglas and Catherine Zeta-Jones 13-year marriage is said to be on the rocks, with sources claiming they're heading for divorce.
The couple, who have not been spotted together for four months, are said to be living separate lives.
"Michael is going to announce the split soon," a source told Brit tabloid The Mirror. "Catherine is fighting to save the marriage but he's had it."
A few months ago, a representative for the couple denied divorce rumours, but this time a rep has simply stated, "I won't talk about that."
Sounds like splits-ville to us! But what about the kids?
Sources say the pair could stay together for the wellbeing of 13-year-old Dylan Michael and 10-year-old Carys Zeta.
"Divorce would be the final straw," an insider told UK magazine Grazia. "It would be too damaging for the children and a strain on both of them emotionally and health wise."
Michael, 68, was also snapped last week on a boat in Sardinia still wearing his wedding ring. But Catherine was nowhere to be seen.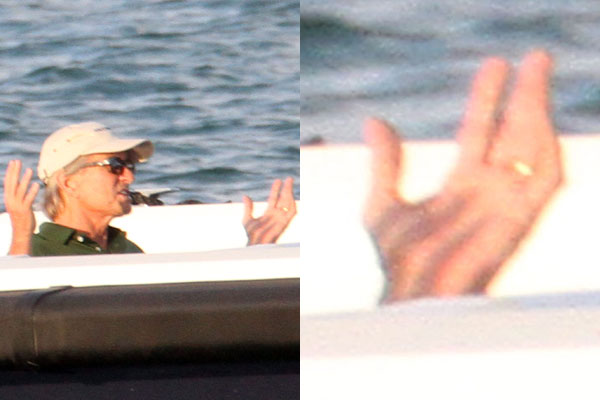 Where's Catherine? Michael out anad about wearing his wedding ring last week.
Image: Tavera Antonello / Splash News

But that's probably because she was attending premieres and events to promote her latest film Red 2. Taking time on the red carpet to chat about her family.
"Michael's doing a movie on the East Coast with Diane Keaton, so he's working," the Red 2 star told ET Online. "My children are actually at sleep-away camp, so I'm missing them desperately."
So is this all just a case of rumours and gossip for this Hollywood golden couple? We sure hope so!
Michael is also starring in Behind the Candelabra as Liberace alongside Matt Damon who plays his younger lover. Watch the trailer below.