Ok, let's be real for a minute.
If we were one of the world's most sought after supermodels, we would probably be selfie-ing all day long too.
That's why we can't really blame model Miranda Kerr for not shying away from the camera and posting this pouty pic whilst playing at the park with son Flynn.
Whilst most of us would have the flushed cheeks and fly-aways sitting in the sun, Mrs Orlando Bloom looks radiant in the snap, showing off her flawless peachy skin and full pink lips whilst laying in the grass. Erm, who's looking after Flynn?
Wearing a pair of aviator shades, the 30-year-old looks casual and relaxed, basking in perfect nature with her perfect brunette locks neatly fixed in a perfect side plait. We're not envious at all, really.
Posting the snap on Twitter, the model simply wrote "Kisses" next to her pretty pic, before uploading another image of bubbles in the sky to which she added, "Bubble fun with Flynn."
With the recent influx of scantily clad hotties in their skimpy bikinis on social media as of late (cue Nicole Scherzinger,) we guess we should be grateful that Miranda's selfie wasn't one of her flexing out in her yoga gear again.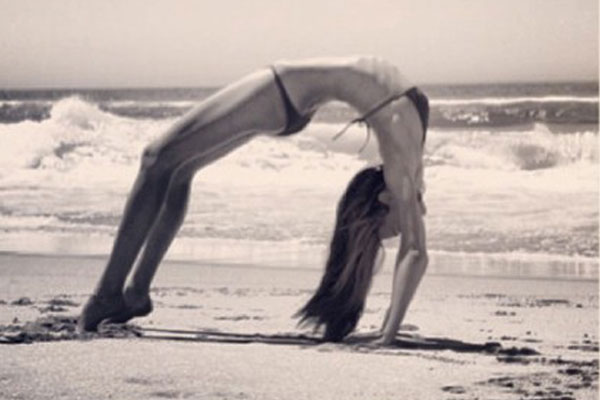 Miranda Kerr practicing yoga in her bikini. Source: Instagram/Miranda Kerr
So uh, thank you Miranda?