David Arquette is drinking and smoking pot again after two years of sobriety and says it's all thanks to a thing called "the kindness game". Watch the interview above.
When was asked by Howard if his recent divorce with 49-year-old Courteney Cox had an influence on his relapse, the 44-year-old insisted she's "super cool" with it.
"Courteney's super cool," he said. "Everybody's getting along and understanding."
The star has been in a relationship with ET Online entertainment reporter Christina McLarty since 2011 and insisted that she is also supportive of him.
"My girlfriend's cool," he said. "She supports me. She's cool."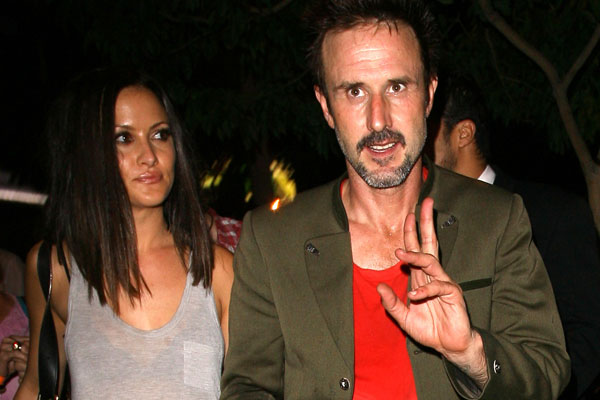 Christina and David leaving a club in LA last weekend.
Image: Roshan Perera / Splash News

He also blasted reports that he was fired from the set of his recent film project Something About Her due to his "drunken antics".
"The director wasn't happy with [my performance] and he has his own vision for it, so I get it," he revealed.
Howard later chimed in: "I'm worried about you, only because I know you got a problem with alcohol."
The star spent time in rehab in January 2011 after he and the Friends star split in late 2010 after a decade long marriage.
"Whatever I do, I'm gonna do," David responded. "I'm gonna go through this journey and figure out my life.
"I'm a responsible person, I have my daughter three days a week … I'm incredibly responsible. '"I'm living my life and I'm trying not to hurt people."