Now that those Victoria's Secret days are long behind her, Miranda Kerr seems to be enjoying not having to wear those pesky push-up bras 24/7!
The Aussie stunner rocked up to the US Open to see Serena Williams' finals victory over Victoria Azarenka yesterday wearing no bra.
Why is this news? Well, Miranda has made a habit lately of, erm, shedding her inhibitions (or to put in plainly, FLASHING!). See the video below for a round-up of her recent (intentional?) wardrobe malfunctions:
Miranda wasn't the only supermodel to strike a glam figure at the US Open in New York. Kate Upton showed us that models do actually eat, refreshingly tackling a meat sandwich sitting alongside former Victoria's Secret Angel Karolina Kurkova. We love you, Kate!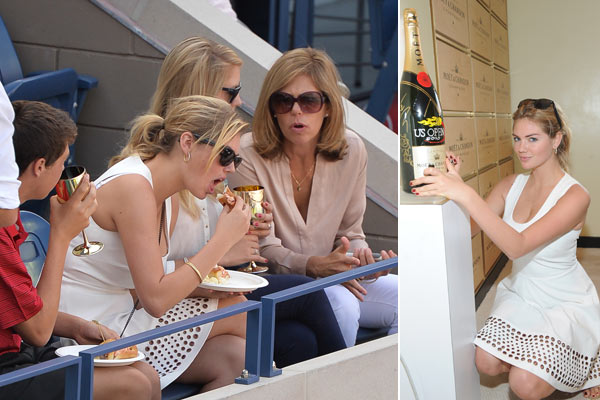 Beautiful Kate: Upton's a charmer. Image: Splash/Getty.

Last week, Kate almost had a "Miranda moment" herself with a plunging neckline at the GQ Men of the Year Awards in London: