Miley Cyrus has thrown some major shade at ex-fiancé Liam Hemsworth, publicly announcing that 'Wrecking Ball' was written as a "f--- you" revenge song against the guy that "broke my heart". Ouch! Watch her revealing rant above.
Continuing her controversial Bangerz tour in the UK, the 21-year-old played a secret club show at iconic London venue G-A-Y. True to form, she did not hold back, getting wild with a giant inflatable penis and slurring obscenities at the raucous crowd, who lapped up every word.
With a drink in hand, she launched in to a massive speech, singling out her recent heartbreak while introducing her hit song 'Wrecking Ball'. According to Miley, "the best kind of revenge is to write a number one song about it". Liam, are you listening?
The 21-year-old also ranted about "all the a—holes that have f---ed me over".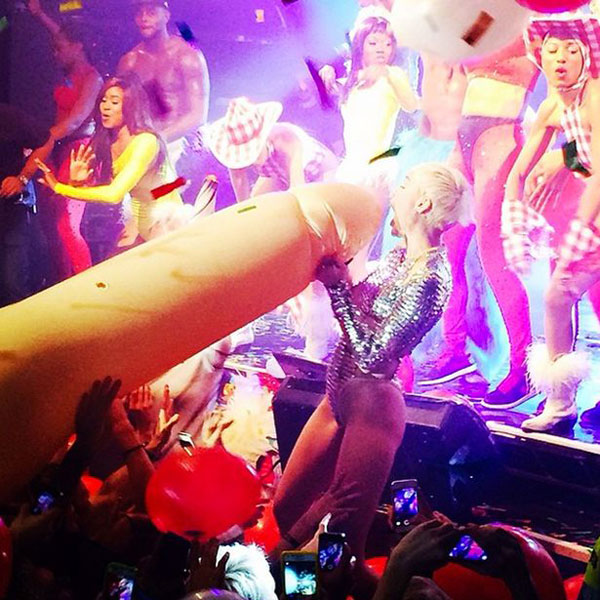 Miley look wild to a whole new level in London
Image: Instagram @mileycyrus
Of course it wouldn't be a Miley show without a few shockers. While empathising with the queer crowd, she may have crossed the line with a cringe-worthy date rape joke.
"You know, everyone's a little bit gay … It's the truth," she said to a crowd of cheers.
But wait for it…
"Everyone's gay, all it takes is one cocktail. And if that doesn't work, sprinkle something in their drink. That's what I always do," she finished.
Oh, Miley. You just had to go there didn't you? *facepalm*
View pics:Celebs' sexiest post-breakup revenge selfies!