At a gala known for its A-list turnout and breathtaking couture, Kim Kardashian and Rita Ora have both suffered embarrassing wardrobe malfunctions.
Kim, 33, demurely covered up her generous bust in a midnight blue Lanvin gown… but her thigh-high split left her crotch and navy knickers exposed for waiting photographers! What would Kanye say?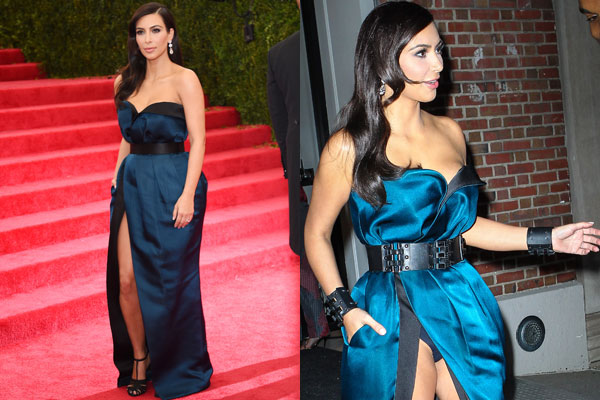 .
Images: Getty/Splash

With her gloved, floral Givenchy frock universally panned last year, the reality star was keen to make a good impression in 2014. Maybe you should have been on crotch patrol, Kimmy!
Rita Ora's gold Donna Karan Atelier ensemble also gave us a free peep show on the red carpet. Another thigh-high slit, another set of colour-coordinated underwear!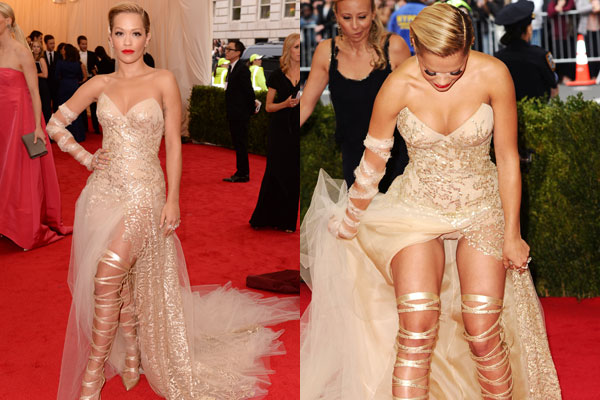 .
Images: Splash

Let's just hope it's the singer's crazy sandals and not her gold undies that will have everyone talking…
Approved by: Carmarlena Murdaca
At least Kim's frock is better than last year's shocker! Check out the video below:
From couture to catastrophe: The Met Ball 2014 red carpet