US reality star Bethenny Frankel has sparked a backlash on social media after posting a picture of her tiny body squeezed into her four-year-old daughter Bryn's Hello Kitty pyjamas.
"This is my daughter's nightgown and PJ shorts. Think we're ready to start sharing clothes yet?" the 43-year-old wrote on Instagram.
It wasn't long before the ex-Real Housewives of New York City star copped flak for the picture.
"She looks like a 75-year-old anorexic... She put herself out there so it's her fault," wrote one follower.
"Sure, she has the body of a four-year old girl, but the face of a 400-year-old demon...maybe more publicity can fix that," another user added.
Bethenny, who is 5ft 6in and weighs 52kg, hit back at the nasty comments on Twitter.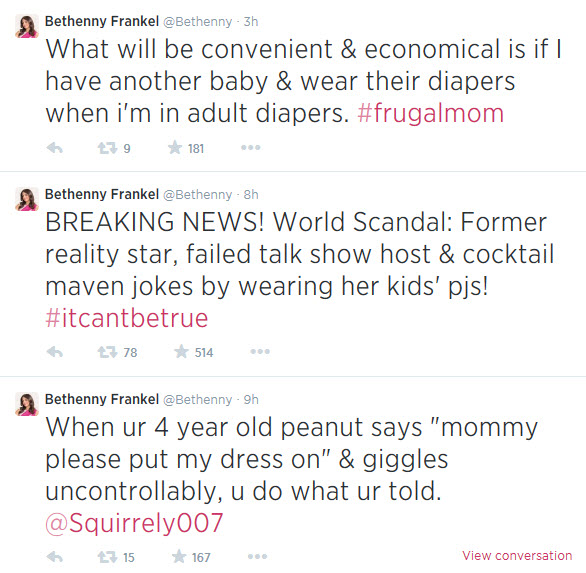 Images: Bethenny Frankel/Twitter.
But some fans were still not satisfied with her explanation.
"Just because she told you to put it on, doesn't mean you had to share it with the world just to get attention," one wrote. "Bethenny, your smokin' f'n hot, eat something starchy, have some wine, listen to some good music, chill the f out. Oh, but make sure to get a selfie of you chillin', sexy!"
Bethenny, who wrote the book Naturally Thin: Unleash Your SkinnyGirl and Free Yourself From a Lifetime of Dieting in 2009, has previously revealed her mother was anorexic and bulimic.
"I'd read every single diet book and been on more diets than you can imagine," Bethenny said on her ill-fated talk show in 2013. "I came from a home with eating disorders...I never had bulimia or anorexia, but I was obsessed."
Now, Bethenny says she controls her weight with smaller food portions and regular exercise.
US reality TV villains: Where are they now?

Author: Adam Bub. Follow on Twitter. Approved by Amy Nelmes.