Angelina Jolie's former babysitter has shared some shocking revelations about the Hollywood superstar during her younger years.
Cis Rundle, a friend of Angelina's late mum Marcheline Bertrand, says that little Ange used to enjoy the feeling of pain so much that she would dip her fingers in wax, amongst other things, to self-harm.
"She just liked that little bit of pain. She liked that edge. She was a wild child." Cis told Radar Online.
According to Cis, the self-harming behaviour and eating disorder got so bad that she had to be hospitalised at one point.
"I carried her into the hospital. She was in that anorexic stage. It was one of her stages. She didn't stay, it got worked out."
Cis also revealed that Ange hated school and was constantly bullied about her large "Ubangi lips".
"[They] made fun of her because of her lips and the girls were mean to her. She has these broad shoulders and long legs, she moved like a gazelle."
It seems like no subject is off limits to the woman we're betting is now a former family friend.
She also gave another side of the story behind Ange's infamous red carpet smooch with brother James Haven in 2000.
"The day she kissed Jamie at the Oscars, it was the first day Marcheline was treated for cancer. They left the hospital together and got ready together," she said.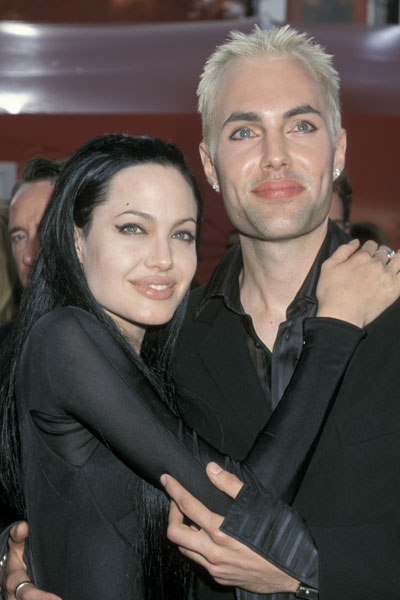 Angelina and brother James at the 2000 Academy Awards.
Image: Getty
''Nobody in the world knew that they spent the day in the hospital. It was like, 'Look where we're at now'. But the world saw something incestual… They only ever had each other. They had a very tight relationship with each other and their mother."
Okay, we still think pashing your brother is a little weird, but each to their own… right?
Now happily married to long-time beau Brad Pitt, with whom she has six kids, Angelina has come a long way from her dark past. Let's hope she leaves the creepy behaviour to her on-screen characters.
View our gallery of Brad and Ange's wedding pics!