She's single, sassy and no longer sleep-deprived: Aussie star Sophie Monk has a new lease of life since quitting her 2Day FM radio show.
With job offers coming thick and fast, the 34-year-old has plenty to keep her busy… and she's almost ready to break her dating dry spell too.
"I'm staying single just till the end of the year," Sophie tells TheFIX. "I'm going to take it really slow, I've still got to get my head around being in Sydney without doing these hours."
But what if Mr Right doesn't come along? Well, Sophie makes it clear she won't be in a rush to have a child on her own.
"I don't know if I'd have it on my own because I don't want a baby just for the sake of it," she says. "I'd rather do it for the right reasons. So if it happens, it happens, if it doesn't it doesn't either — because I've got all my nieces and nephews and I love them."
"Aunty Sophie", as she's known to her siblings' five kids, has loved spending more time with her family while living back in Australia — and she's keen to stay put rather than move back to LA.
Sophie's had no shortage of work offers from both Hollywood and locally, including her new comedy ad with YouTube stars The Axis of Awesome for Sara Lee's Singles range of desserts. Yes, the former Bardot band member is singing for the first time in seven years… watch below!
"I sing every day," she adds. "I will never let music not be part of my life."
Speaking of pop stars, Sophie names Taylor Swift and Ariana Grande as her respective best and worst interviews during her time on 2Day FM.
"Ariana was the worst only because she's so young and quite naïve about the way she treats people," Sophie reveals.
"[Ariana's management] kept her quiet to all the press, she didn't know all that press was going on saying that she was a diva. If she knew that, she would have acted different."
Sounds like Ariana could learn a thing or two from down-to-earth Soph!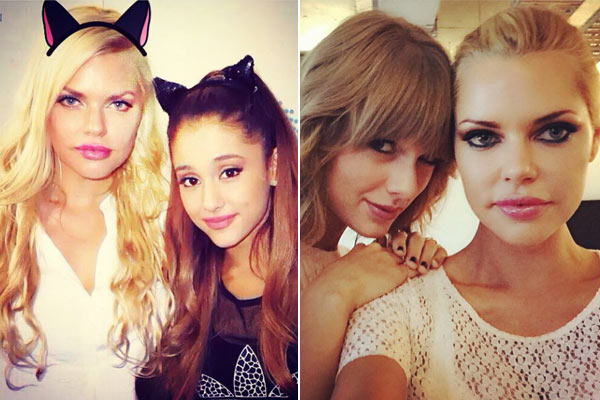 Not happy, Ariana. Happy, T-Swizzle. Images: Sophie Monk/Instagram.
Check out Sophie's interview with Taylor below...
Nude flashes, storm-offs and dodgy dancing! Why we think Sophie Monk shouldn't have quit 2Day FM

Author: Adam Bub. Follow @TheAdamBub. Approved by Amy Nelmes.